Copyright 2003: Jan Byron. All rights reserved. (Copy permission at bottom)
Webmaster's Introduction

- Jan sent me an interesting email which read, "I was interested to read reports on R&R in Sydney and surprised to see there was nothing! I worked in Kings Cross at a record shop while attending the University of New South Wales and later a coffee shop whose name not surprisingly became the GI's Hut. Of course I met many American young men. As well, Australian neighbours and friends went over to Vietnam and during those years I wrote and received many letters from Vietnam. Years later the letters became the research data for my master's thesis. Since then I have written the non academic version in the form of a novel. Not everyone's experience in Kings Cross was sleazy." Jan's experiences overlap almost to the month the time that the 1st Battalion (Mechanized), 50th Infantry served in Vietnam. I am both pleased and honored to include on our website her perspective of those days.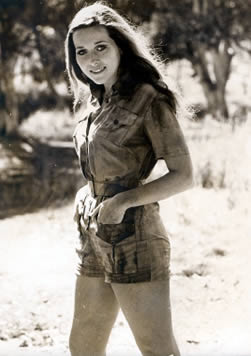 The Author, then.


R&R Sydney, Australia, December 1967-1970
Baby, baby... where did our love go?
And all your promises
of a love for ever more.**
Remember you said you'd be back.
Remember you said you'd always remember.
Remember you said you'd always be my friend.
Well?
Did you?
So many good intentions despite the improbable likelihood they'd ever see the light of day. It's okay. Life needed to go on around the perimeter of your soul as you got on with it as though nothing in particular happened while you were in Vietnam for a year, or more if you extended. Same for me.
After three years of not attending classes to walk around Sydney with you, go to the library with you (remember!) and write letters after you left and never came back it was time for me to "get on with life" too. So no more meeting and saying goodbye. No more missing you. No more you. Time to stop back peddling and get on track! You know how it goes.
Like you, I sent my experience of you and your letters underground because it was too painful to remember and too isolated from the experiences of those around me to even acknowledge. It was different as well, to other girls you may have met on your R&R. I traveled and met my husband on a blind date on Valentine's Day in Canada. He came out to Australia and took me back.
But unfinished business, as you know, will tug away until you deal with it. It's as though the universe is in on the conspiracy. For me, I began to think about you again in 1978 while teaching at a junior high school on the Canadian prairies. What would they think if they knew I'd met all those Americans on R&R, was the thought. And it was promptly dismissed.
In April, 1985 I was accompanying students at a Music Festival and my third child was on the way. Between sessions and dealing with nausea I visited the washroom to find a copy of Time with its cover story on ten years after the war. Then I began to read some available books but I didn't recognize you in the stories. At the same time I got very homesick for red soil, kookaburras and the sound of the live bush and we moved back to Australia a few months later.
That's when I rediscovered your letters. What I couldn't understand at the time took on new meaning. There was one letter that was angry and I threw it out but I wish I hadn't.
In the meantime we crossed the Pacific once more and returned to Canada where I began graduate studies. Before leaving I'd asked my mother for the letters. I wanted to take them back with me but they were lost in the clutter of a house where things did not get thrown out.
Letters were mentioned as a possible tool in a research class and I began to write about your letters in the journal shared with the professor. I asked my mother again for the letters. Finally she phoned and said she'd found them and packaged them up. When they arrived it was like finding a precious ring or necklace that had been lost. Even more precious because it was a gift in the first place and could not be replaced. When reading through, however, I realized that they were not the same ones I'd read six years before. My mother searched again and after what seemed an eternity, phoned once more with the news that she'd found them.
My masters degree was originally in music but my advisor went on sabbatical as fate would have it. In the meantime I became interested in the work of Jean Clandinin who was developing the notion of narrative, or learning from your own experience, as a research methodology. I changed over to curriculum, she became my advisor and my thesis became an account of what I'd learned through the experience at the time. I used your letters to further figure out what is important. Interesting how life works, heh? I walked away from that time to get on with it only to return years later to figure out what is important. Possible only because your letters, written in the script of the soldier, the man and the friend, preserved the experience.
So much has happened as a result of writing my thesis. But that's another story. Also another story is the one of friends and neighbors who went to Vietnam.
Perhaps I'm long winded but you can accept some of the responsibility for that. Writing letters to you while you were in Vietnam so you'd have something else to occupy your mind with is the culprit that developed my ability to write epistles.
How did a nice girl like me end up in Kings Cross you may be wondering. Once again, fate. A friend of my mother owned a record shop and asked if I'd work there during the summer. It was on the corner by the El Alemain Fountain, the one that sprays out like a big dandelion gone to seed. I'm sure you have pictures of it. I wasn't there long before Molly decided to open up another branch and called it the Concerto Record Bar in the arcade leading to the Crest Hotel. You may remember the Crest. It had a coffee shop on the corner known as the Goldfish Bowl, a popular meeting place. You may have wandered into the Concerto on your way from the Crest to the dazzle of Kings Cross. My favorite record at that time was the B side of a 45 by the Beach Boys, Wild Honey. Perhaps you walked by and heard it.
When university started I worked weekends at a coffee shop called La Tete a Tete which later became the GI's Hut for obvious reasons. It had a jukebox that played the Righteous Brothers (Unchained Melody), Percy Faith (A Summer Place), Frankie Valley (Can't Take My Eyes Off You), Paul and Paula (Hey Paula), the Turtles, the Beatles. Perhaps you were one of those nice guys who came in with the two blondes that ditched after you ordered four steak dinners. You asked me to check on them after they'd spent a long time in the washroom. They'd obviously escaped down the alley to find two more naive GI's looking for a good time. You seemed pretty sad. Embarrassed perhaps but you still left me a two dollar tip even though you'd lost your appetite and walked away from the cold steaks. Thank you. For me it was a cab ride home to the western suburbs where I lived with my mother and grandmother.
Whisky a GoGo on Williams Street halfway between the heart of the Cross and Hyde Park, played Motown and had a parquet dance floor so small you could hardly fit five couples on it without bumping into each other. That wasn't all bad either. Of course you told me not to go there because the bad girls went there but I did anyway. The bikini clad girls danced in cages while you stood there with your mouth open and didn't even notice me walk by. You looked so healthy. Shy. Skinny. Short haired and smelling of BRUT. Intoxicating, to say the least. By 1970 I wanted to look cool so I wore my sunglasses on top of my head at night. Something I picked up from you.
Remember the peanut shells all over the floor in the Texas Tavern where the group on the jukebox was Creedence playing Run Through the Jungle, Suzie Q and Fortunate Son? Perhaps you remember the Bourbon and Beefsteak by the fountain as a good place to have a drink. Or Mama Marta's Pizza place where they served the best pizzas in Sydney on red and white-checkered tablecloths.
And through the day it was walking around the city, catching the ferry to Taronga Park Zoo or the beach at Manly. You might have caught a cab to Bondi Beach. You might be the tall, blonde guy who walked past and wailed, "I'm in love. Will you marry me?" Although I didn't acknowledge your words (you'd obviously had a few back at the hotel before you got out on the street), I noticed you and you were cute. You didn't notice that I'd turned scarlet because by that stage we were walking away from each other and you'd already noticed another short skirt. Do you remember St. Mary's Cathedral? The restaurant at the top of Australia Square? Martinz Place? How about the Opera House under construction?
My husband is a wonderful, patient man who is starting to get a bit tired of the Vietnam thing. Some believe it's as simple as a choice to put an end to whatever it is that haunts you. But a thing is not over until it's over and even then what does it mean, it's over? It's never over. But you can come to a place where you accept your experiences. They become part of who you are and you become comfortable wearing them. You wear them and you start to like who you are as someone who has cried the tears and in the process become real. Loveable and worthy to be cherished. Just like you. You'll never know how much you've meant to me.

I'll Always Remember,
Jan

ęCopyright Jan Byron, 2003. All Rights Reserved.
jayceekay_154@hotmail.com

Permission to use this story on web pages or in print or any other media must be obtained from the author Jan Byron (jayceekay_154@hotmail.com).
Once author's permission is received, ensure that the line below is included in your attribution:
Reprinted from the 1st Bn (Mech) 50th Infantry website http://www.ichiban1.org/
( web sites should make the url a link or may also just link to this page )

*"Someday We'll Be Together," performed by Diana Ross and The Supremes, 1970.
** Words from "Where Did Our Love Go?" written by Holland/Dozier/Holland, produced by Gary Goetzman and Mike Piccirillo, lead vocals by Bryan Scott.
---