Copyright 2002: Mike Chisam. All rights reserved. (Copy permission at bottom)



It was about 3:00 a.m. on Friday, February 13, 1970 and I had been in country for seven months. We had been operating in the mountains for several weeks. At first light, I would be taking a chopper back to base camp to go on seven days R&R to meet my wife in Hawaii. While we had been operating as a separate platoon deep in the mountains, we had linked up with the Company which was in a night lager site. The Company Commander had decided to only set out two ambush patrols that night. He told me, "Mike, your platoon can have the night off since you will be going on R&R tomorrow morning".
Your worse nightmare before R&R was the thought that you might miss your chopper, have bad weather that delays your departure, or worse yet get killed or wounded. What would happen if your wife met your flight and you didn't show up? My wife had a copy of my orders telling her I would be arriving on February 16th. I had to be at the R&R processing station in Cam Ranh Bay NLT 1000 hours on February 15th. We still have a copy of the instructions my wife received at Ft. deRussy. Flight M210 from CRB was scheduled to arrive at 2:25 p.m. on 16 February 1970. The letter stated times are approximate and they should meet arriving personnel at Ft. deRussy. It further stated "Rosters of personnel aboard any specific flight are not available until the aircraft arrives in Honolulu."
The claymore mines broke the stillness of the night. It was followed by machine gun and small arms fire. The third platoon ambush radioed that they need reinforcement - they were taking enemy fire and they had spotted a reinforced NVA company. Third platoon moved out into the darkness to link up with their ambush. The second platoon ambush called in that they had ambushed a NVA company and had taken one KIA. Second platoon moved out to link up with their ambush patrol. My platoon prepared to support either unit. It was dark, there was a lot of movement and you didn't know who was who.
SSG Scott Stamper was the Second Platoon Sergeant. He recently filled me in on some of the details I had forgotten or didn't know. SP4 James Meza, the new squad leader, was selected to lead the ambush that night and Scott joined them. After analyzing the terrain, Scott set up one of the machine guns facing behind them. Since the company laager wasn't far away and third platoon had a nearby ambush, they would have expected any enemy to approach from the other direction. As it turned out, a reinforced NVA company came down the trail two abreast and walked right into the back of the ambush. Scott let them get real close before blowing the claymores. SP4 Wilson was the machine gunner and laid down good grazing fire. SP4 James Meza was killed in the encounter. Both platoons did one heck of a job that night, and it was real "hairy" until the sun came up. As Scott later said, "Anyway, it was a hell of a night."
Needless to say, we were on the move trying to maintain contact with the enemy at first light. The chopper came and left without me. About mid morning, a grenade or rocket round whizzed by my right ear and landed behind me throwing shrapnel out. Fortunately, no one was injured. If that round had been a few inches closer, I could have been killed or wounded. We located an enemy camp and found several tons of rice. I can still see a couple of troopers chasing a sway back pig we found in the camp. It was a temporary relief from the situation. Later it struck me that my worse nightmare was coming true. I had missed my flight and had no idea when I would get out. I could see my wife when I failed to show up on my appointed flight. Worse, I could see they would have no details on why I missed the flight. But through it all, I knew that things could have been much worse. That round could have killed or wounded me... and SP4 James Meza hadn't been as fortunate. Some nightmares are worse than others.
I have forgotten the details on how and when I finally got out. When I reported into the replacement company to out process, operations was quick to tell me that I was late!! They had already started processing the flight and filling up extra seats. Big deal - it wasn't like I was late because I didn't have anything to do.
I looked out the window and could see the orderly room. The sign proudly said CPT Perry W. Thorn was the commanding officer. Could this be Wayne Thorn who I had gone to college with? We had played football together, lived in the same dorm until we both got married at about the same time, our wives were good friends, etc. It didn't take me long to go over and see him. After a quick reunion, he led me over to operations. Everyone saw me pick up my bag and leave. Many had heard them tell me I was late and you could see the horror on their faces - could the CO pull me off my flight at the last minute. I dropped my bags on a truck and we went to eat. Everyone else on the flight was being searched and then placed into a fenced in area until they were bussed to the plane.
After eating, we got into Wayne's jeep and he drove up to the plane. Everyone else, including a full colonel, was still on the bus waiting for the order to load. I was the first one on the plane and got a great seat. The colonel, the designated airplane commander, boarded the plane after me. He was sweating from having waited on the bus. I had changed into my khakis and the Colonel noticed my Ranger tab, which my wife had sewed on late the night before I had left for Nam, was on the wrong shoulder. He chewed me up one side and down the other - probably because I had gotten preferential treatment. Big deal! I made my flight and met my wife. I didn't have to worry about my worse nightmare and what my wife would have experienced if I hadn't made the flight.
It was a great R&R. We stayed in the Ilikai. The Ilikai is the building you see the late actor Jack Lord atop of during the opening credits to Hawaii 5-0. We still have the bill and our room was $23.40 per night. A bargain by today's standard ($239 per night), but pricey for a first lieutenant's salary. My wife had saved to make sure we could enjoy our selves, since you never knew what would happen during the second half of your tour. The first night we had a steak at a restaurant on Waikiki. The best steak I have ever had. Years later we learned that we had "dumb lucked" upon a four star restaurant. A pair of my favorite photos were taken while watching the Don Ho show - yes, we were still young and slender then. We had the traditional hula show and meal on the lawn of the Ilikai. Today they advertise this as a 35 year Hawaiian nightly tradition. I got the Nam sunburn on the beach. I had a good tan on my arms, but my rolled up fatigue shirt sleeves were about an inch lower than my golf shirts - I got burned. I also had the steel pot tan - dark as could be until just above my eyes where I hardly had any sun since I was always wearing my steel pot, so I also got sunburned on the top of my head.
We visited the U.S.S Arizona Memorial. My wife and I still recall this moving experience as we looked down at the structure of this famous battleship, which was sunk by the Japanese on December 7, 1941. The end wall of the memorial is inscribed with the names of the 1,177 men who lost their lives when the ship went down. I get the same feeling today when I visit the Vietnam memorial and see the names of fellow soldiers like SP4 James Meza and the other good men who died in Vietnam.
All good things have to come to an end. I flew back and rejoined my platoon which was still on the same operation in the mountains. I think that operation lasted 40 days.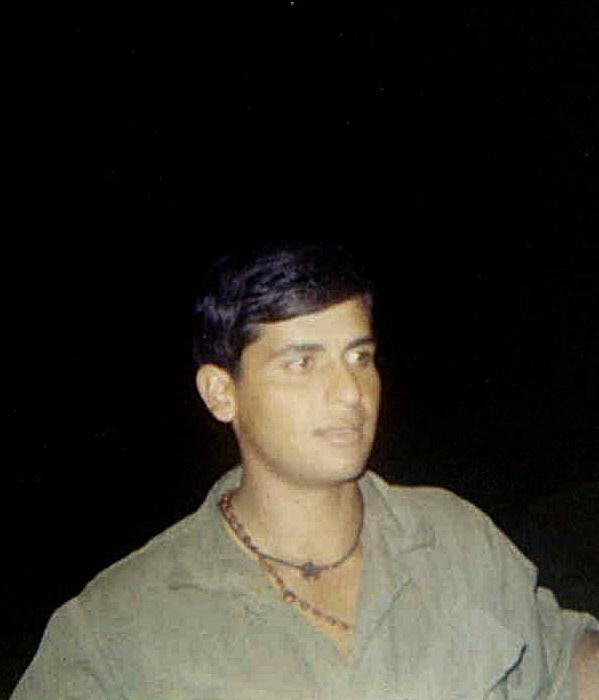 James Meza