Thanks to the hard work of our "ad hoc" KIA committee member, Barbara, we have located Donald Queen's sister, Martha. She has contributed a wonderful photo...to which I have added an American Flag Background.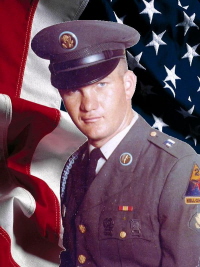 Later this year, after I have "caught my breathe" from all that each reunion brings...I plan to begin a new section of Memorial Pages for each of our men killed in action. Our goal is to have a photo of each and every man...although we have a long way to go...and are still missing MANY photos....this will still be an effort we can all be proud of.
I have spent countless hours gathering all the documentation we have on every one of these men. I have also visited three prominent Vietnam KIA Memorial web sites and copied every posting for our men. The "hard copy" files I have amassed will be on display at the August Reunion. We now have a quick reference point for any quiry about any of these men...as well as a place to file remembrances and first hand accounts of the events surrounding their lives and death in Vietnam.
As I have done before, I urge you all to send me any remembrances you have of any of these men. If you have already done so....as many of you have....thank you!